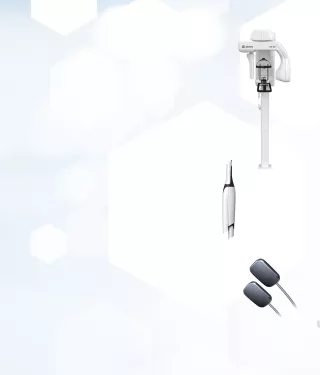 Imaging devices and file formats supported by DTX Studio™ Clinic1
Supported media for import and export
DTX Studio Clinic allows import and manipulation of below listed media types, independent of origin and manufacturer.
CBCT/CT, 3D optical scans
3D DICOM file (multi-frame)
3D DICOM folder (single-frame)
PLY (color), STL (mesh)
NXA
2D intraoral / extraoral X-ray images / clinical images
DICOM
Common image files: TIFF, PNG, JPG, BMP
Surgical plans
DTXIP (surgical planning from DTX Studio Implant)
Imaging devices powered by DTX Studio Clinic
Below listed imaging devices are powered by DTX Studio Clinic. Capturing happens directly using DTX Studio Clinic.
CBCT 3D
OP 3D™ Pro
OP 3D™
Pan eXam Plus
OP 3D™ Vision
3D eXam +, 3D eXam i+
Instrumentarium Dental OP300
Instrumentarium Dental OP300 Maxio
i-CAT™ FLX (V series) (MV)
i-CAT™ FLX MV
SOREDEX CRANEX® 3D
SOREDEX CRANEX® 3Dx
SOREDEX SCANORA® 3D
SOREDEX SCANORA® 3Dx
Gendex GXDP-700
Gendex GXDP-800
PAN/Ceph 2D
OP 2D™
Pan eXam™
Instrumentarium Dental OP30
Instrumentarium Dental OP/OC200 D
SOREDEX CRANEX® Novus e
SOREDEX CRANEX® Novus
SOREDEX CRANEX® D/Ceph
Gendex GXDP-300
Imaging plate scanners (PSP)
Scan eXam™ (all models)
Scan eXam™ One
Instrumentarium Dental EXPRESS™ (all models)
Instrumentarium Dental EXPRESS™ Origo
SOREDEX DIGORA™ Optime (all models)
Gendex GXPS-500 (all models)
Intraoral X-ray sensors
DEXIS™ Titanium
DEXIS™ Platinum
GXS-700
IXS™
Gendex GXS-700
Intraoral cameras
DEXIS™ DEXcam 4 HD
DEXIS™ DEXcam 33
DEXIS™ DEXcam 43
Gendex GXC-3003
Imaging devices supported by DTX Studio Clinic
Below listed imaging devices are embedded into a dedicated, efficiency improving, capturing workflow enabled by DTX Studio Clinic.
Intraoral optical scanners
DEXIS IS 3600, DEXIS IS 3700, DEXIS IS 38003,5,9
DEXIS IS: Requires DTX Studio Clinic 3.2.4 and IS ScanFlow 1.0.7 or higher.
X 500, X 7003,5,9
MEDIT™ i500, MEDIT™ i7003,5,9
MEDIT: Direct integration (with DTX Studio Clinic 1.9.2 and higher) or integration of MEDIT Link software is available.
3Shape TRIOS®8
3Shape: With the 3Shape Dental Desktop version 1.7.18 and higher, and DTX Studio Clinic version 1.8.12 and higher. Both POD and MOVE configurations, wireless or wired connections supported.
Third-party intraoral cameras7
Full support:
Carestream CS 15006
Dürr VistaCam iX HD6
KaVo ERGOcam™ One
MouthWatch IP6
MyRay C-U26
Limited support – livestream only:
Acteon SOPRO 7173
CADI OPTIVIEW6
Dürr VistaCam iX (non-HD)3
Digital DOC IRIS3
Generic webcameras6
Third-party intraoral diagnostic cameras
KaVo DIAGNOcam™
KaVo DIAGNOcam™ Vision Full HD
DEXIS™ CariVu™
Third-party 2D TWAIN devices

4
Questions?
Contact us to learn more or to set up a personalized demo with one of our DTX Studio software specialists.
References
Supported operating systems are subject to device model.
BMP format is available for import only. Export to BMP is not supported.
Windows only, due to driver limitations.
Subject to compatibility, 2D grayscale devices only, via DTX Studio Driver and DTX Studio Core, Windows® only.
Subject to market availability.
Available both in macOS® and Windows®.
Only if DTX Studio™ Care subscribed.
Only for license type DTX Studio PRO IOS or for activated Plus+ feature "Third-party integration"
Only for license type DTX Studio PRO IOS or for activated Plus+ feature "MEDIT integration"